Hot Tags
Buy Five Nights at Freddy's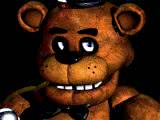 Please scan QR code to continue, This is an android game. - Five Nights at Freddy's game!
Rating:

System Requirements

OS:

Android 2.3

CPU:

1.5 Ghz

RAM:

1 GB

Size:

49.7 MB

Price:

$2.99

Release Date:

January 26, 2015
All user reviews
So if you play be careful the power is really hard not to lose so.. Limit time on your camera and doors.. Keep closed if bonnie , Chica , or Freddy are at the door.. Be careful!
By Katie Weber
Omg I love this app. Me and my brother play it all the time. I recommend this app if you want some epic jump scares. Also it's just like pc version but cheaper. It does have some so problems like closing the app when I'm playing the app. But it's still a really good game.
By Brooklynn
Love this game so much !! Play it all day one thing... Freddy's jumpscare is not scary!
By Scott Knuckles
Hot Games