Hot Tags
Download Subway Surfers for Android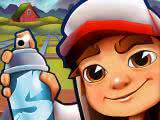 Please scan QR code to continue, This is an android game. - Subway Surfers for Android game!
Rating:

System Requirements

OS:

Android 4.0

RAM:

1 GB

Size:

65.5 MB

Release Date:

January 24, 2015
All user reviews
I'm really love this game, it has a lot of possibilities to customize your runner and other cool things
By Jose
Where is new update? Don't download this game.
By Pathum
Subway Surfers is the best game I have ever played.
By Habib
Please make this game for 512 Mb ram devices.
By Morteza
I like the game. It is very fun interesting and funny. The point is I like the game.
By Alex
I love this game very much this game is very funny as well as more entertaiment ienjoy it very well
By Sona Mini
I recommend this family friendly to all kids And adults . From 3to10, every body will enjoy
By Chichi
Our 12 year old son gave the game 5 stars. He says it is a lot of fun. He always says it's a great game for 10 year olds through high school.
By Recep
I recommend this family friendly game to all kids and adults. From 3 to 10, every body will enjoy it.
By Chichi
Hot Games