Hot Tags
Download Baldi's Basics in Education and Learning for Android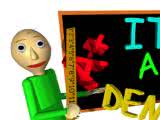 Please scan QR code to download IOS game.
Download Baldi's Basics in Education and Learning for Android game!
Rating:

System Requirements

OS:

Android / iPhone

CPU:

2.0 Ghz

RAM:

1GB

Size:

48.1 MB

Price:

$10

Release Date:

August 10, 2019
Reviews
This is a cool game
By Mr. Pussy Eater
The cool school has craters in the school like baldi,principle, playtime, art and crafter,bully. The basic is were the maths, second notebook problem 3 is hard, you need to escape, all is 7 notebooks to free and win.
By By Kesin
You have silly maths baldi and poo and wee haaaaaaaaaaaaaa
By Oli
It's a awesome game, sometimes it's not even on play store.
By Keyono
Cool game about shcool. good for teaching kids math. i even play with it because i love the math questions. Baldi basics and education and learning i love. thanks
By Mr. Will
This is an awesome and addicting game. It is a little scary, but fun.
By J. D.
Baldi's Basics is one of my favorite game. Be careful of every NPC.
By Snooc
I've been trying to play Baldi's Basics 4 days. And now it's finally here!
By Sadie
Hot Games